Coincidence and Precision - Horst Gläsker
A cordial invitation to the opening of the exhibition with a table concert on Sunday, the 29th of September 2019 from 12.00 to 15:00 in the Kunstinitiative Wurzeln und Flügel e.V., Schloss Reuschenberg, Gerhard-Hoehme-Allee 1, 41466 Neuss.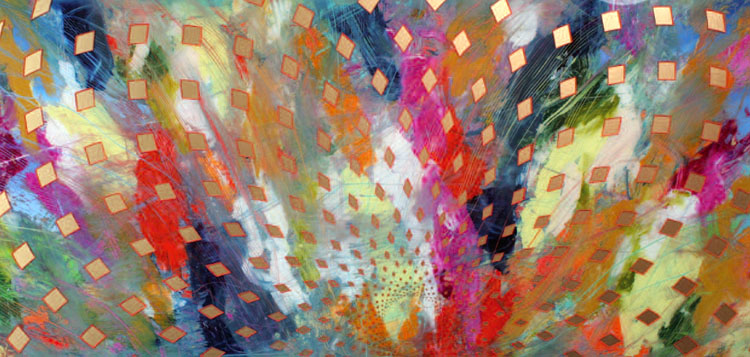 The exhibition will be accompanied by a catalogue with a hand-signed and numbered Ex-Libris-Edition (limited edition of 80 copies)
Opening:
September 29th 2019, 12:00
Duration of the exhibition:
until January 2020
Opening times:
Every Wednesday from 15.00 to 18.00 and by appointment
Kunstinitiative Wurzeln und Flügel e.V.
Schloss Reuschenberg
Gerhard-Hoehme-Allee 1
41466 Neuss
Telephone:
02131 4053580
www.wurzelnundfluegel.org
Photographic Paintings - Horst Gläsker
A cordial invitation to the opening of the exhibition on Friday, the 8th of March 2019 at 19.00 in the galerie im stilwerk - Fils Fine Arts, Grünstraße 15, 40212 Düsseldorf.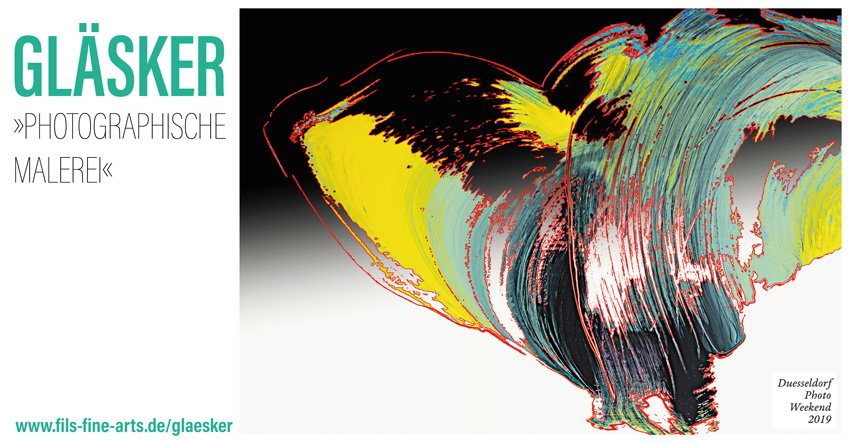 Horst Gläsker has been an important part of Düsseldorf's international art scene since the 1980s. He studied with Gerhard Richter and K.O. Götz and has himself held professorships, among others at the Kunsthochschule Kassel. He has always questioned the boundaries of art and works multimedial.
Horst Gläsker combines photography with painting for his latest group of works in photographic painting. He uses his own works in order to create entirely new compositions.
These photographic paintings are pure rhythm - and "rhythm is the basis of Horst Gläsker's central contribution to art" (Prof. Schneckenburger, Director of documenta 1977/87).
Opening:
March 8th 2019, 19:00
Photo Weekend:
Saturday the 9th of March and Sunday the 10th of March 2019
Opening times:
Saturday: from 10.00 to 20.00
Sunday: from 12.00 to 18.00
www.fils-fine-arts.de
WindEnergy Hamburg - AERO_ART

Ladies and gentlemen,
come and visit us at the WindEnergy Hamburg - the leading expo for wind energy worldwide. You can find us in Hall B7, Stand JIU.23, on the joint stand for young innovative companies (sponsored by the Federal Office for Economic Affairs and Export Control).

We will be presenting world firsts from AERO_ART: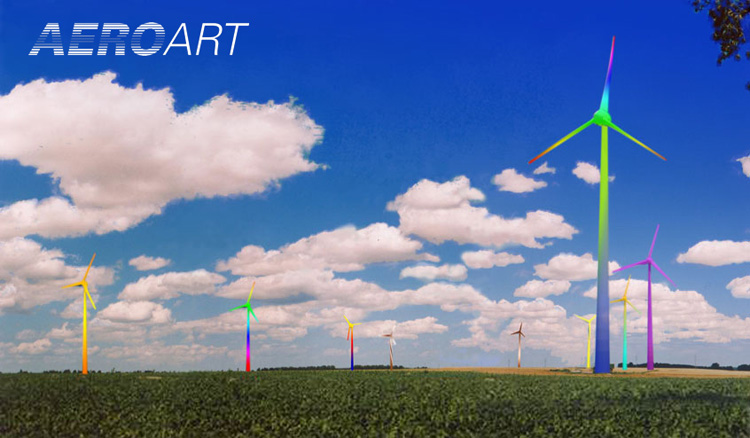 Wind turbines with new radiance - symbols of creative economics
The transformation of the power industry needs new symbols to bring about a new identity. With colourfully designed wind parks, AERO_ART raises the acceptance and ensures a positive atmosphere. AERO_ART stands for the fusion of artistic and regenerative energy. The "Force Field Machines" are individually designed and thus become a visiting card for vilages, regions and companies. The colourful paintwork gives the wind turbines an "emotional overcoat" and an enormously sympathetic radiance. They are symbols of a new age and emblems of creative economics.

We are looking forward to your visit!
WindEnergy Hamburg
25th - 28th September 2018
Tuesday - Thursday: 09.00 - 18.00
Friday: 09.00 - 16.00
www.windenergyhamburg.com
Homo Ludens' new color world - KH Dresden
A cordial invitation to the opening of the exhibition on Saturday, the 18th of August 2018 at 19.00 in the Kunsthalle Dresden.

The Kunsthalle Dresden, part of the Penck Hotel (former art'otel), is showing around 30 color and light works by the artist Horst Gläsker, born in Herford in 1949. The exhibition provides insights into the diversity of his abstract painting. It shows the development of the former Gerhard Richter student and master student of K.O. Götz from the 1990s to the present day: large-format color stripe works, abstract-ornamental behind glass, light drawings, Tondi, which concentrate of the effect of color in a circular image, up to digitally reworked brush variations. The show illustrates the desire for color and the constant continuation and transformation of non-objective painting as a game between coincidence and control.
As a type who finds meaning in random play about coincidences and possibilities, Gläsker is Homo Ludens, the man who is playing with colors and light. He creates landscapes and galaxies full of faceted and associative images. Gläsker thus stands transversely to the current art. He does what avant-garde bans at present: he simply revels in colors and develops spheres of turbulent red-green-yellow games. He does not imagine himself in modern, political or conceptual life, but works on counter-worlds with the unfolding light of colors.
His works show that abstract compositions seem to vary infinitely. They are based on simple shapes such as circle, point, square and line and in the overlay of color modulation and ornamentation. Horst Gläsker understands abstraction as a portrait.
From 1973 to 1979 he studied at the Kunstakademie Düsseldorf. In the 1980s, he created room-filling image formats reminiscent of the colorful spatial concept of the North-German artist Wenzel Hablik (1881-1934). In the 1990s, he uses the circular image as a model and takes up the ornamental floor mosaic of St. Mark's Cathedral in Venice. His light drawings are created from 2002 to 2006 from the body movement with the camera open. The image series brush dance and rhythm fields are research works that integrate in the game between foreground and background in some cases in more than 120 color gradations. They are the result of thinking in the rhythm and in the consequent development of abstraction as a playful painting process.
The show is the prelude exhibition of the new Penck-Hotel Dresden.
In cooperation with the gallery
Michael Schultz Berlin
.
Opening:
August 18th 2018, 19:00, free entrance, the artist will be present.
Duration of the exhibition:
August 18th to November 21st 2018
Opening times:
daily from 10.00 to 18.00
Kunsthalle Dresden in the Penck Hotel (formerly art'otel)
Ostra-Allee 33
01067 Dresden
Telephone:
0351 49220
www.penckhoteldresden.de
Myraden - Wasserburg Haus Graven
A cordial invitation to the vernissage of the exhibition on Sunday, the 27th of May 2018 at 11:30 in the Wasserburg Haus Graven, 40764 Langenfeld-Wiescheid.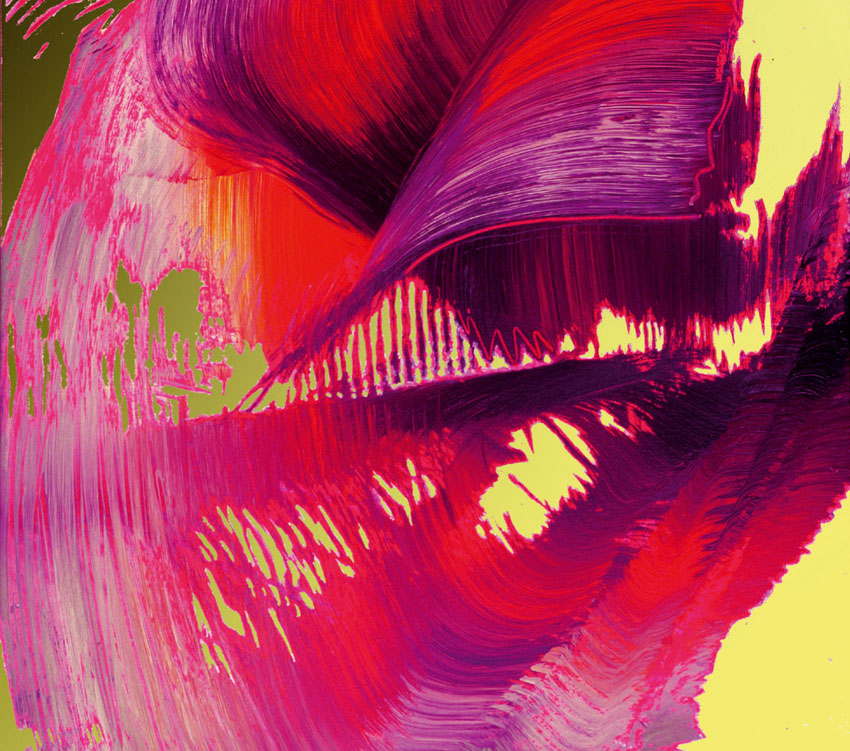 Vernissage:
May 27th 2018, 11:30
Speakers:
Lothar Marienhagen, Chairman of the Wasserburg Haus Graven e.V.
Frank Schneider, Mayor of Langenfeld Rhld.
Kay Heymer, Head of Modern Art, Museum Kunstpalast Düsseldorf
Duration of the exhibition:
until September 9th 2018
Opening times:
Saturdays, Sundays and Bank Holidays: 14:00 to 17:00
Visitor groups by appointment
www.haus-graven.de
Pedal-Organ-Carpet-Object - Museumsmeilenfest 2018
It's going to get melodious in the Kunstmuseum Bonn, because for two days the artist Horst Gläsker will be exhibiting and demonstrating his large sound installation in the foyer, and will also be inviting visitors to join in.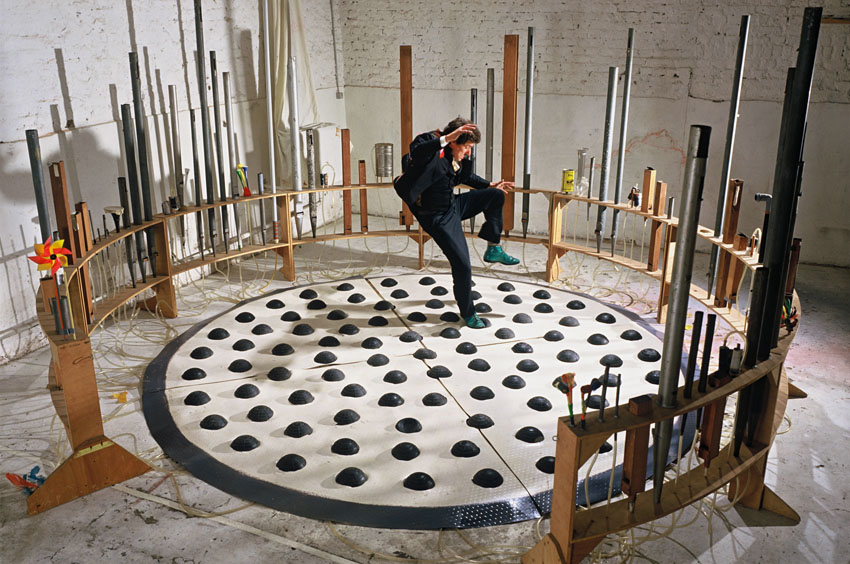 KUNST MUSEUM BONN
Museumsmeile
Friedrich-Ebert-Allee 2, 53113 Bonn

Telephone: 02287-6260

Opening times:
Saturday, June 2nd, 11:00 to 18:00
Sunday, June 3rd, 11:00 to 18:00

Horst Gläsker at fiftyfifty
A cordial invitation to a vernissage with table concert on the 1st of December 2017 at 19.00 in the fiftyfifty-Galerie, Jägerstr. 15, 40231 Düsseldorf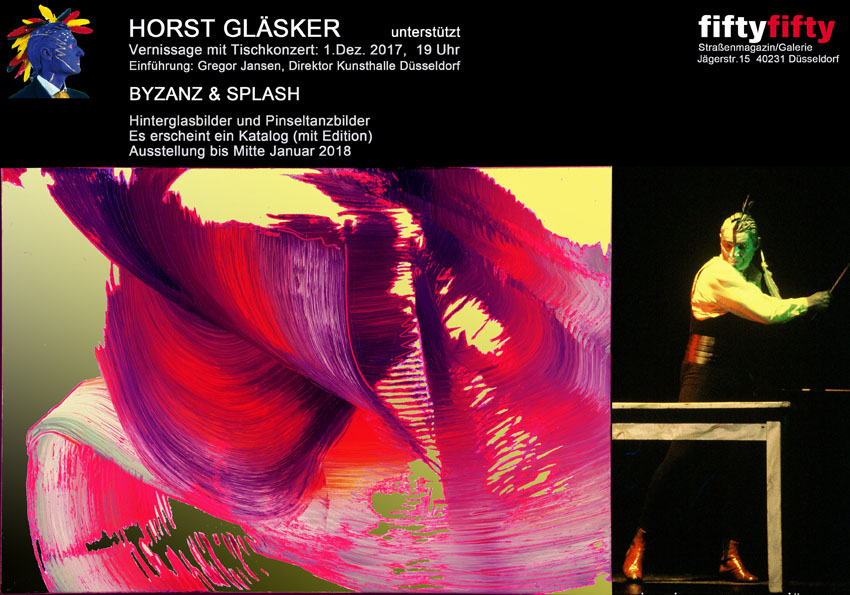 Byzanz and Splash - glass painting and dancing brushes
The exhibition will be accompanied by a catalogue.
Vernissage:
01.12.2017, 19:00
Introduction:
Gregor Jansen, Director of the Kunsthalle Düsseldorf
Duration of the exhibition:
until the middle of January 2018
Opening times:
Monday - Saturday: 14.00 to 17.00
www.fiftyfifty-galerie.de
Dual exhibition: "Gegenwelten" - Horst Gläsker and Harald Fuchs

A cordial invitation to the opening of the exhibition on the 6th of November 2016 at 11.00 in the Galerie Münsterland, Friedrichstraße 3, Emsdetten

For its second exhibition project in 2016, the board of trustees of the Galerie Münsterland was able to enlist the support of two renowned artists for a thematic dual exhibition: Horst Gläsker (painter and sculptor) from Düsseldorf and Harald Fuchs (multimedia installations) from Cologne. What connects the two is that they both keep on occupying themselves intensely in their artistic work with questions of worldly wisdom, world and counter world, inverted world, world models, science and myth. Both share a strong affinity for non-European moral concepts.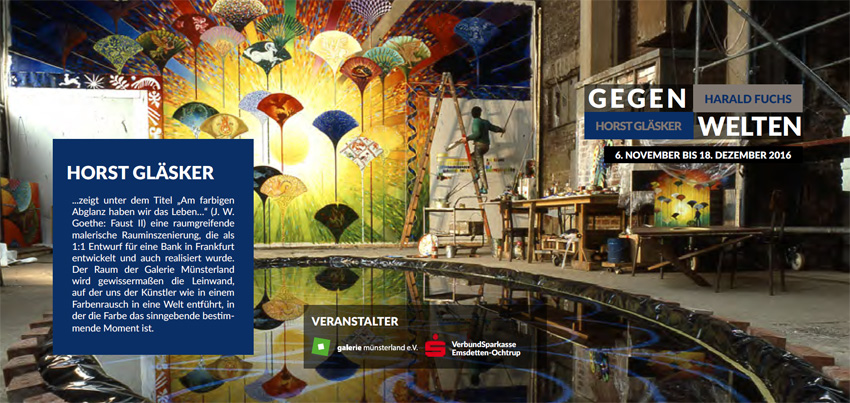 Under the title "In This Colourful Reflection We Have Life Itself." (J. W. Goethe: Faust II), Horst Gläsker displays an extensive pictorial spatial installation which was created as a 1:1 draft and which was implemented for a bank in Frankfurt. The space in the Galerie Münsterland will in a way be turned into a canvas on which the artist transports us in a rapture of colour into a world in which colour is the meaningful determining factor.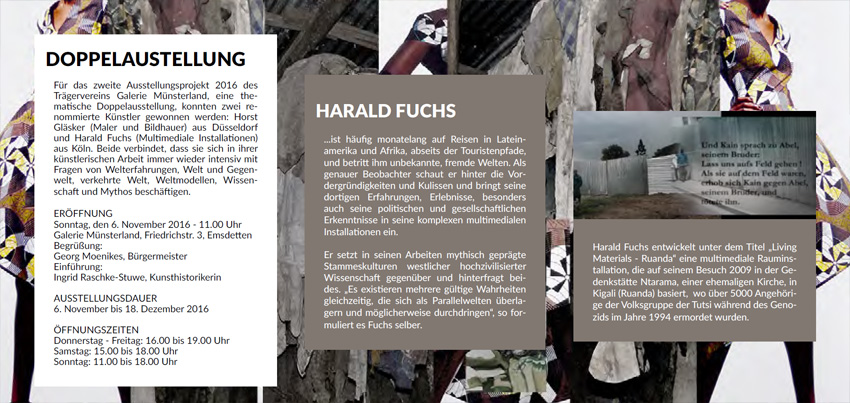 Harald Fuchs has developed a multimedial installation with the title "Living Materials - Ruanda" which is based upon his visit to the Ntarama Genocide Memorial Centre in Kigali (Rwanda) in 2009, where more than 5000 members of the Tutsi tribe were massacred during the genocide in 1994.
Welcome speech:
Georg Moenikes, Mayor of Emsdetten
Introduction:
Ingrid Raschke-Stuwe, Art Historian
Duration of the exhibition:
November 6th to December 18th 2016
Opening times:
Thursday - Friday: 16.00 to 19.00
Saturday: 15.00 to 18.00
Sunday: 11.00 to 18.00
www.galerie-muensterland.de
Portfolio "In This Colourful Reflection We Have Life Itself." (Goethe)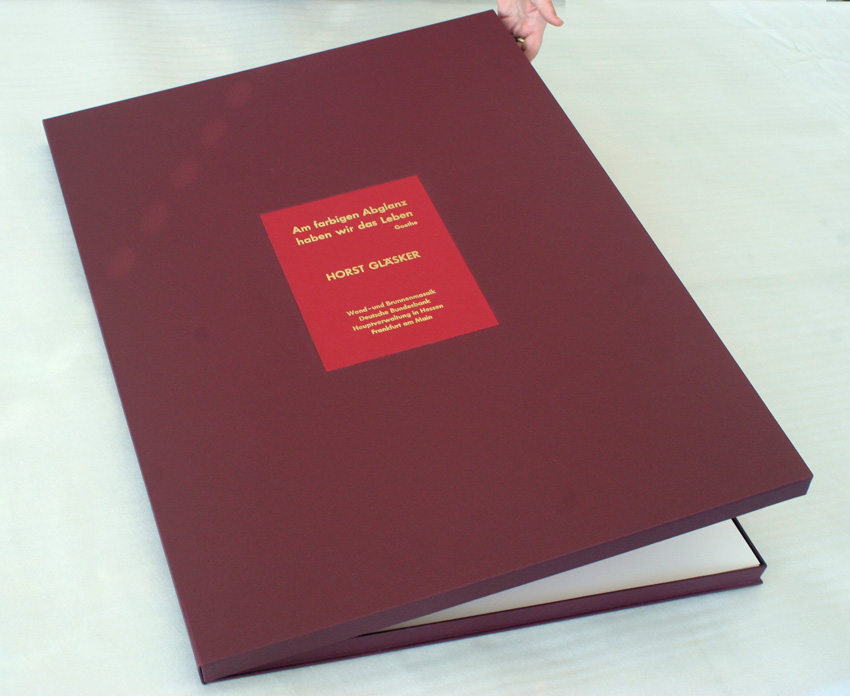 Portfolio "In This Colourful Reflection We Have Life Itself." (Goethe)
HORST GLÄSKER, Wall and fountain mosiac, German Central Bank, Head Office in Hesse, Frankfurt am Main
Contents: a total view and details of the wall and fountain mosaics, 18 art prints, 54 x 72 cm,
fine-art prints on handmade paper, 2 pages of text from Prof. Dr. Manfred Schneckenburger
in a clothbound presentation box
A limited edition of 30, price: 3,800 € (incl. VAT) plus postage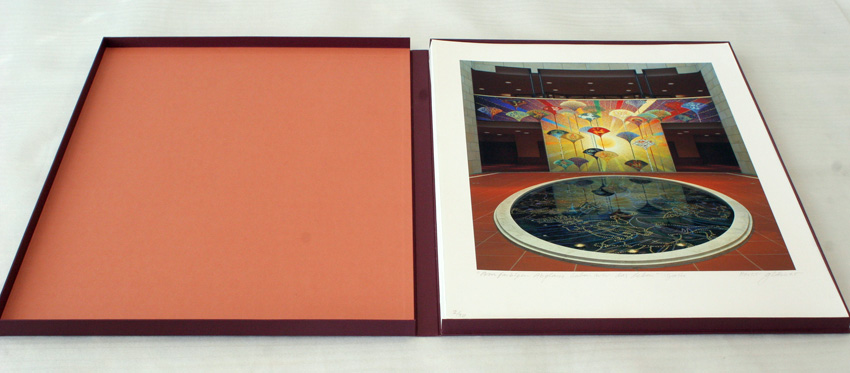 10 years of SCALA: the painted Holsteiner Stairs in Wuppertal shines with brilliant new colours!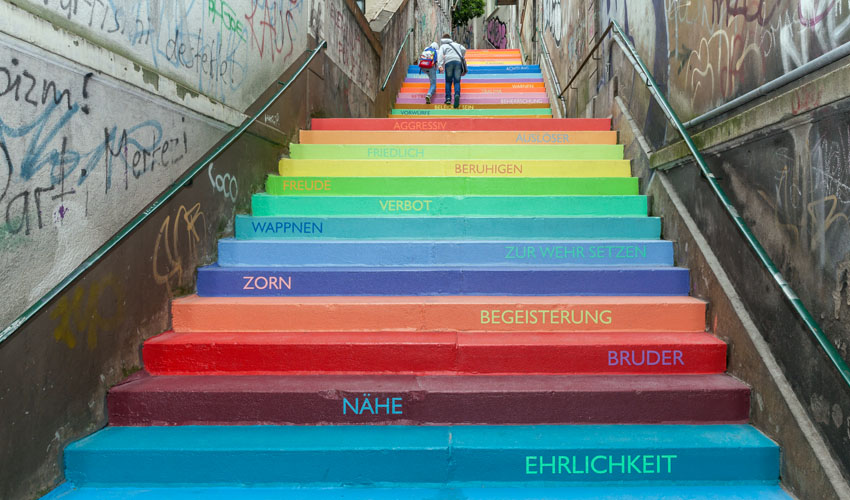 Photo: Peter Krämer
The colours have suffered from the effects of wind, weather and many years of constant use,
and have now been renewed with participation of the artist.
SCALA was originally created as a temporary work of art in 2006, and was recreated in 2008 due to
a citizens' initiative. Now, 10 years later, it has been restored once again.
The national and international feedback to the Wuppertal SCALA is still extremely high.
The painted steps have taken on a life of their own and travel worldwide through the internet.
The SCALA words have been translated into many languages. Internet platforms, especially in the areas of
street art, architecture, design and colour, show and comment on the Holsteiner Stairs.
In a ranking of the worlds most beautiful steps, which can be found at
boredpanda.com/most-beautiful-steps-stairs-street-art
, SCALA is in 6th place from 17 entries!
The list of international publications (books on street art, colour in architecture, public art)
in which the Wuppertal steps play an exclusive role is also growing.
Rhythm Fields

Horst Gläsker

From 21.05.2016 until 02.07.2016

Opening: 21.05.2016
Time: 16:00 to 19:00

Galerie Löhrl
Kaiserstr. 58-60
41061 Mönchengladbach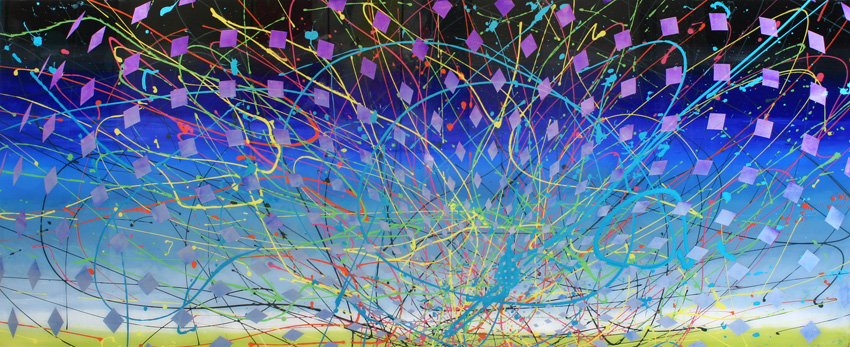 Gläskers painting is the pure pleasure in painting and in the rhythm of the brush strokes. The person himself vibrates to his fingertips when it comes to the dynamics of the images. Therein lies neither nervousness nor uncertainty, but rather the throbbing pulse of excited sensations. They fulfil the artist, as otherwise only a piece of music can. Rhythm. A measure of time, not a primarily visual terminus, was more important to the painter than all of the concepts that revolve around sensations of the retina. This passionate peintre pur is simultaneously saxophonist and clarinettist, mouth organ player and step organ stepper, although his appearances have long become brush dances. In rhythm he combines his musical existence with his painterly existence. It is the greatest common denominator on which his art is based. Rhythm is the basis of his central contribution to painting: the rediscovery of ornaments and free ornamentation.
Quotation: Prof. Dr. Manfred Schneckenburger, from: Horst Gläsker - The Seduction of Space, Verlag Lindinger + Schmid, 2006
Song of the Painter - CosmosJazz - CD

Improvised musical inspirations
A live recording taped in Düsseldorf on the 17th and 18th of September 2015
Horst Gläsker - Saxophone, Vocals, Percussion
Martin Hauf - Synthesizer, Inspirator MH-01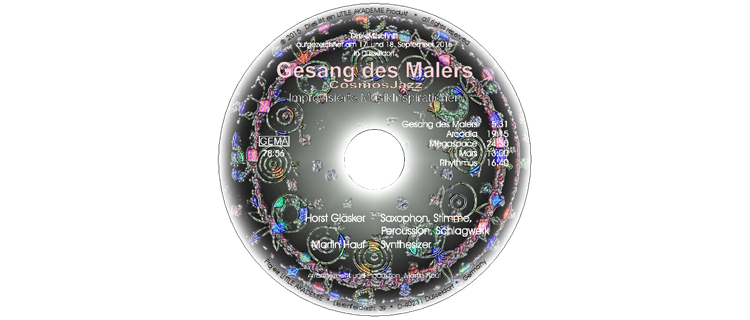 Horst Gläsker and Martin Hauf have worked in the same studio building for more than 20 years.
In September 2015 they had the idea of making music together - with no rehearsals, no conventions.
The CD "Song of the Painter" was created in just two days.


The idea:
There is no conductor, no leader or follower.
Neither of them can tell the other what should happen when in which way, or even why it should happen.
No cover versions and no so-called jazz, rock or pop standards.
This inevitably leads to the musicians involved being thrown back on themselves.
Each of them hears what is happening, and contributes based on their feelings and ability.
The result is an experimental cosmos of sound, full of ideas, fantasy and humour.
Buy online:
http://www.p-l-a.de
Horst Gläsker helps the homeless
Two new watches for fiftyfifty
Horst Gläsker: Dancing Brushes purple and blue
Unisex watches (same size for men and women) from Hummel Pforzheim
Silver-coloured metallic case with a quilted leather strap in white or blue, as defined by the artist.
The watch face is a high quality 3D direct print, and it all comes packaged in a high quality metal case.
This is a limited edition of 200, the back of the watch is individually numbered and signed by the artist with an engraving pen.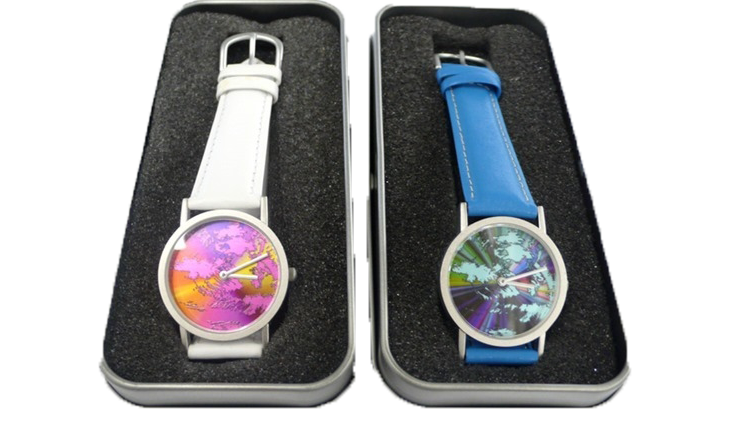 The watches costs 78 Euros each, both watches can be bought as a set for an introductory price of 100 Euros
(plus 8 Euros postage and packaging, payable once only per order regardless of how many watches are ordered).
Buy online:
http://www.fiftyfifty-galerie.de/galerie/5593/
(max. 2 sets per person, no guarantee of delivery if the batch is sold out) AVAILABLE IMMEDIATELY!